Blue Devil Wrestlers Feted at 34th Annual Awards Dinner
Shawn Riley wishes everyone could get to know Lou Giani like he did this season. In poignant comments at the Blue Devil wrestling team's 34th Annual Awards Dinner Tuesday night, the 130 lb. New York State champion told a crowd of more than 100 crammed into Huntington High School's Cafeteria B, what it meant to him to wear the blue and white and be coached by the Hall of Famer.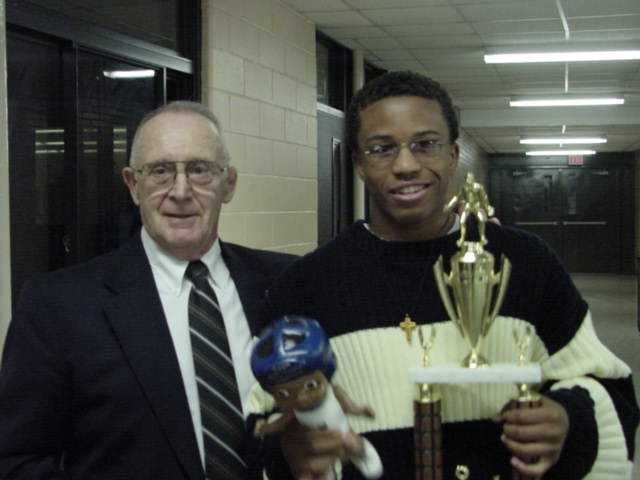 "If you ever get the chance to get to know coach, take it," Riley said. The evening celebrated an incredible season of success that saw the 25-man team win both the county and state team titles, shattered Suffolk's dual meet win streak record and send three wrestlers to the state tournament finals. The coaching staff presented varsity and junior varsity letter awards along with trophies for various achievements and honors.
Parents, family members, administrators, School Board members and wrestling alumni including Charlie Gadson, Tim Hawkrigg and Tom Giarmita, attended the festive gathering that included dinner, dessert, the awards presentation and a stirring slide show.
Riley picked up his third varsity letter along with trophies for most takedowns, near falls and technical falls. He was named the team's "Most Valuable Wrestler" and given a ceramic "Little Man" wrestler, which traditionally is presented to each Huntington state champion.
"His greatest asset is his ability to focus on improving his technique and to capitalize on his opponent's mistakes," Giani said about Riley. "We will never forget that fierce competitive attitude."
Shaheim Bradshaw and Jack Sullivan, who each finished second in the state tournament, were tapped as the team's "Most Improved Wrestlers." The pair also earned trophies for having the most pins (20 each) during the season and Bradshaw was cited for securing the fastest fall (0:11) and for being Huntington's high scorer, compiling 246 team points in dual meets and tournaments.
Suffolk champion Pierre Delva earned awards for having the most reversals and for being the senior with the highest academic average. Chris Holland was honored for having the most escapes.
County runners-up Charlie Paar and Jeremy Pellot were presented with trophies for being "Outstanding Performers." Calling them "true competitors," assistant coach Travis T. Smith, said the pair were integral factors in the team's success. "Each time they step on the mat they wrestle with such intensity and desire, that if time allows they will find a way to win," Smith said. "Their performances in the Suffolk County Tournament were simply outstanding and they were key factors in our winning the overall team title."
Smith also presented newcomer Justin Giani with the "Rookie of the Year Award." "He's been an outstanding addition to our team and has shown great improvement," Smith said. "His work ethic, will power and maturity are well beyond his years."
Senior Frank Sangiovanni received hearty applause when Smith presented him with the team's "Dedication Award." "I have coached him for six years and during this time he has always put forth one hundred percent on the mat as well as off," the coach said. "He has worked hard to improve himself as a wrestler as well as doing whatever it took to help his teammates and the overall wrestling program. He is a team player. He has dedicated a tremendous amount of time and effort, not only during the season, but also during the off-season. I could not have been prouder when he placed in the Suffolk County Tournament."
"This was a wonderful evening," school trustee Francine Whitehead said. "Everyone loved the slide show. It was fantastic." School Board President Robert T. Lee echoed those feelings. "It was really nice to honor the team and make them feel special. They deserved it."
Coach Giani closed the evening by thanking parents and family members and athletic department staff, including Director of Athletics Georgia McCarthy, "for all of the support throughout the season." He sent out special thanks to his wife Rosemarie and daughter Rose, "for their never ending help."